STUDIO
Space to learn
The language classroom is a studio – a space where learners can study and practise, before using the language they have learned in the outside world.
A new six-level course taking learners from A1 to C1
A systematic approach to grammar and vocabulary development
Clearly staged productive skills lessons at each level
A focus on functional language and communication skills
Original video and audio-based lessons bring language to life
Exam practice for Cambridge main suite, TOEFL, TOEIC, and IELTS online
Support for new and experienced teachers
Key Features
A fresh approach to lesson topics using 12 channels, a special focus on communication with an emphasis on pairwork tasks, innovative audio and video material to engage students, and mobile digital resources to enhance the learning experience.
Download and print out the promo leaflet for an exhaustive overview of the course.
To provide students with a greater variety of topics than other course books, each lesson in STUDIO is linked to a different theme or channel. The 12 STUDIO channels cover content relating to educational, real world, and CLIL topics.

Video-based functional lessons in each unit (101 things to do in English) develop students' communication skills while the Studio Mix, Life Stories, and Studio Views lessons give students regular opportunities to watch as well as listen to people speaking.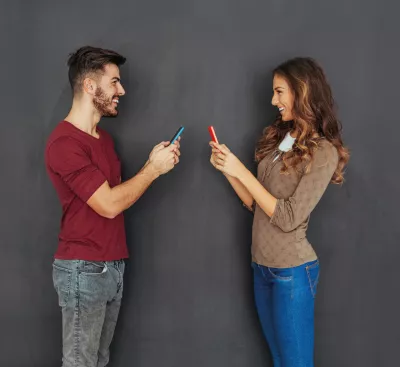 Frequent opportunities for spoken interaction help students become confident speakers. STUDIO has a special emphasis on pairwork, with communicative tasks designed to develop accuracy and fluency, bringing the language to life.
Downloadable Vocabulary Beats in the Workbook allow students to repeat words that build into phrases set to a music track – a memorable and fun way to practise new vocabulary in the classroom, at home, or on the move.
The Helbling Media App includes all the pairwork activities in a unique mobile format. The App also has all the video and audio material, as well as the Vocabulary Beats. The Quick Notes and Answer Keys allow teachers to present classes from the App.
The Language Studio at the back of each book provides a visual vocabulary reference, extra writing tasks linked to material in the course, and a complete grammar reference.
Levels & Samples
Please click on each level to access the Scope & Sequence and Sample Material.
Components & ISBNs
For students
On Helbling e-zone
e-book+ with integrated audio and video plus extra interactive Reading and Listening activities
Cyber Homework
Projects
Exam Practice
Class & Workbook Audio
Plus Helbling Media App
For teachers
On Helbling e-zone
Teacher's DIGI Pack

Presentation Software (IWB)
Testbuilder + Test Audio
Teacher's Book + Class & Workbook Audio
Videoscapes
Reference material:

Scope & Sequence
Workbook keys

Placement Test
Plus Helbling Media App
Standard
Student's Book and Workbook as separate volumes provide material for the classroom and further practice at home.
Combo Full
Perfect if you are looking for an all-in-one volume with Student's Book and Workbook included together.
Combo Split
With each volume providing six Student's Book units and six Workbook units, this version is ideal for short courses and one semester programs.
All STUDIO teachers' materials are also available in flexible formats to match the versions.
Download and print out the full list of ISBNs.
Helbling e-zone
Technology made easy
Helbling e-zone is the Learning Management System (LMS) developed by Helbling. It consists of a user-friendly online platform for both teachers and students.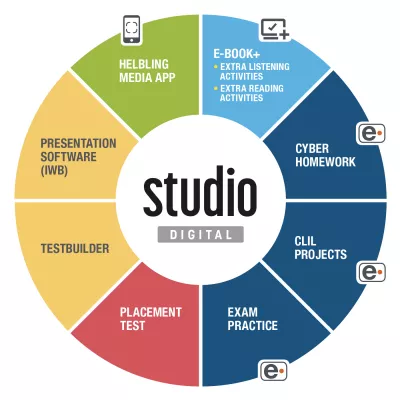 LMS ON HELBLING E-ZONE
Cyber Homework: Interactive, self-correcting activities assigned by teachers to individual students or groups. Students' feedback is automatically given after the deadline.
CLIL Projects: Open-ended tasks to be assigned by the teacher to individual students or groups. Students can include resources such as texts, documents or images, to be shared with the teacher and their class.
Exam Practice: Plenty of practice to ensure exam success at any level. Resources and interactive activities for either individual student access or class use.
E-BOOK+
A state-of-the-art interactive Student's Book & Workbook with integrated audio and video plus extra activities:
Pairwork activities (also on the App)
Vocabulary Beats
Extra interactive Reading and Listening activities
Teacher's DIGI Pack
Presentation Software (IWB)
All the students' material for presentation on an interactive whiteboard. You can use the IWB on a smartboard for face-to-face classes or share your screen with students in virtual classrooms. The IWB keeps students engaged with materials, helps with lesson flow and promotes interaction, wherever you and your students are.
Testbuilder + Test Audio
Specially developed Unit and Progress Tests allow you to effectively evaluate your students' progress. You can use ready-to-print tests or edit and generate your own versions for face-to-face teaching, or send tests directly to your students.
Teacher's Book
Audio
Video
Reference Material
HELBLING MEDIA APP
Full audio and video content on the go.
HELBLING Media App
All audio and video content is also available via the HELBLING Media App.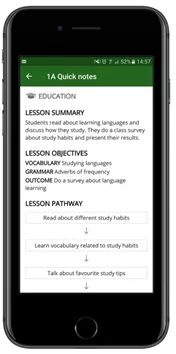 Get the STUDIO Pre-intermediate DEMOs!
Download the free Helbling Media App to your smartphone of tablet from the Apple App Store or Google Play Store.
Open the app and add the media content by tapping on the + sign. 
Enter the Demo access codes under MANUAL ENTRY:
Student's Book: WEN4-L38C-PE84-2Y2F
Teacher's Book: WEN4-NY97-Z25L-CGYU
An overview of Studio: Space to learn
The innovative course for adult leaners
101 things to do in English
Developing vocabulary & grammar
Monitoring progress and assessing learning
Interview with the STUDIO authors
Audio and video-based lessons | 101 Things to do in English
The STUDIO functional language lessons use video in a unique and innovative way, in all levels. Apart from being able to watch everyday scenes and see how useful phrases are said in context (often in a humorous way), students can literally put themselves in the picture. By following simple pathway instructions in the book and on the app, students can create their own scenes, using the same "videoscape" backgrounds as the actors in the videos. The 101 Things lessons include pronunciation tasks on sounds, stress, intonation, and connected speech.
101 Things to do in English video-based lessons
Audio and video-based lessons | Studio Mix, Life Stories, Studio Views
Audio and video are used extensively throughout the course. Each unit includes a lesson in which people talk about their lives. These are presented alternately using video and audio. Using the Helbling Media App, students can watch and listen again outside the classroom.
Studio Mix
for Beginner and Elementary.
In these video/audio lessons, a group of people talk about their lives and interests or complete tasks, providing a model for tasks the students complete themselves.
Life Stories
for Pre-intermediate and Intermediate. 
In each video/audio lesson, an individual talks about a personal event or experience. Watching and listening to these stories helps bring them to life, making them more meaningful and easier to understand.
Studio Views
for Upper-intermediate and Advanced.
These are longer video/audio recordings in which two or more people discuss different topics and issues in an interview situation, helping students get used to the challenges of natural delivery and multiple speakers.