Helbling Readers Red Series Fiction Stories
Good readers make good learners!
A series of original fiction specially devised for young teenage students of English.
Written by renowned EFL authors, these stories combine easy-to-understand language with exciting plots to appeal to younger readers.
Introductory Poster Pages introduce the story and its context and background
Meet the authors section tells students what inspires our authors
Character spreads introduce the people from each story
Detailed Before and After Reading activities help and check understanding
Pair work provides real language work while developing core speaking skills
Reflection Boxes throughout the stories help understanding, and draw links with the students' own lives
Language & Exams
LEVEL 1 - A1
Towards Cambridge A2 Key
Trinity GESE Grades 1-2
Present simple of auxiliary verbs and can; present simple of most common verbs; present continuous; imperative; there is/there are; like/love/hate doing; short answers and question tags; interrogative sentences (who/what/what colour/how much/how many); would like; interrogative pronouns; personal pronouns (subject and object); plural nouns; countable and uncountable nouns; possessive adjectives; possessive 's; demonstrative adjectives and pronouns; adverbs of frequency; some and any; definite and indefinite articles; cardinal and ordinal numbers; conjunctions.
LEVEL 2 - A1/A2
Towards Cambridge A2 Key
Trinity ISE Foundation (GESE Grades 2-3)
Past simple of auxiliary verbs; past simple of regular verbs; past simple of common irregular verbs; past continuous; past simple vs past continuous; present continuous as future tense; be going to as future tense; have to vs must; comparatives; superlatives; common adverbs; possessive pronouns; prepositions of time and place; prepositions at the end of sentences; subject and object questions; to for purpose.
LEVEL 3 - A2
Cambridge A2 Key
Trinity ISE Foundation (GESE Grades 3-4)
Present perfect; will for future tense; modal verbs: should; most common phrasal verbs; yet/already/just; one/ones; ever/never; reflexive pronouns; indefinite pronouns; too + adjective; not + adjective + enough; relative pronouns who, which and that; either/neither; impersonal pronouns you, one and they; very/really/quite.
Dan the Detective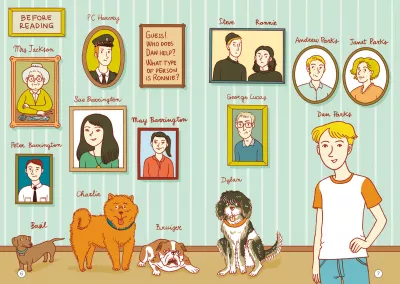 A great series of stories at three levels by award winning ELT author, Richard MacAndrew. These detective stories follow the adventures of British teenager Dan Parks, and his friend Sue Barrington as they solve a number of mysteries… all with the help of their beloved dogs, Dylan and Charlie.
Introductory poster-pages and character spreads, plus decision boxes throughout the text, make these fun, stimulating and student-friendly reads.
Titles include:
Level 1 - CEFR A1
Dan and the Stolen Bikes
Dan and the Village Fête
Level 2 - CEFR A1/A2
Dan and the Missing Dogs
Dan in London
Level 3 - CEFR A2
Dan and the Hong Kong Mystery
Dan and the Island Mystery
The Time Detectives
A gripping series of stories which follow the adventures of Liam and Rose as they travel through time facing a series of dangers, in the hope of returning to their own lives in the present. 
The series opens with Total Eclipse, in which the main characters meet each other and start their journey through time and space, and it closes with Out of the Maze, when Liam and Rose return to where it all began.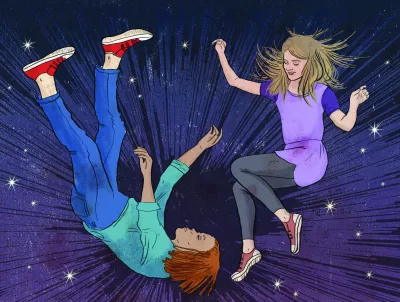 Each book includes:
a 2-page Guidebook setting the scene with information on the subject of the story;
a Let's Talk About spread focussing on CLIL-relevant topics;
a 2-page History Detectives spread exploring the historical context, drawing links to the present allowing readers to develop all-important critical thinking skills.
PLUS
Free downloadable Time Detective Notebook for each reader to compile as they read.
A poster-page with its own e-zone activities.
Titles include:
Level 1 - CEFR A1
The Other Side
Total Eclipse
Level 2 - CEFR A1/A2
Run, Liam, Run!
The Golden Man
Level 3 - CEFR A2
Out of the Maze
The Last Voyage