STUDIO Pre-intermediate
Space to learn
Multiple models from reading and listening texts and the video-based lessons help students develop the skills they need to talk and write about their lives and experiences with increasing fluency.
Life Stories videos allow students to watch and listen to people talk about their lives and experiences
A mix of native British, American and non-native speakers reflect the way the English language is used in today's world
Students can download and practise their vocabulary with the Vocabulary Beats
A Spoken English feature in 101 Things highlights words and phrases used in real spoken language
A series of reading and listening texts in the workbook bring students into contact with a variety of reading and listening genres
Components
Student's Book
12 units made up of three double-page main lessons and one video-based functional lesson (101 Things to do in English)
Six review units – one after every two units
Language Studio with six Writing pages plus comprehensive Vocabulary and Grammar reference
Transcripts of all the audio and video
An irregular verbs list
Workbook
One page of grammar and vocabulary practice for each lesson in the Student's Book
A review spread after every two units with a progress test covering vocabulary, grammar, listening, reading, pronunciation, and dictation
Wordlists and Vocabulary Beats
Genre-based reading and listening activities at the end of each unit
On Helbling e-zone
e-book+ including all video and audio, plus extra interactive reading and listening activities
Cyber Homework
Projects
Exam Practice
Helbling Media App
The App allows students to access all media from the course, including:
All audio plus Vocabulary Beats
All video
All pairwork activities within the lessons and the reviews
Teacher's Guide
Detailed unit overview
Methodology tips
Clear lesson summaries
Simple, straightforward teaching notes
Reproduced Student's Book spreads
Answer keys and transcripts
Extra activities and exam practice
Listening and pronunciation tips
Photocopiable pairwork activities
On Helbling e-zone
Teacher's DIGI Pack

Presentation Software (IWB)
Testbuilder + Test Audio
Teacher's Book + Class & Workbook Audio
Videoscapes
Reference material:

Scope & Sequence
Workbook keys

Placement Test
Helbling Media App
The App allows teachers to access all media from the course, including:
All audio plus Vocabulary Beats
All video
Quick notes for all lessons and corresponding keys
Scope & Sequence
Download the Scope & Sequence PDF for details on the syllabus followed by this level.
Sample Materials
Browse our sample materials now!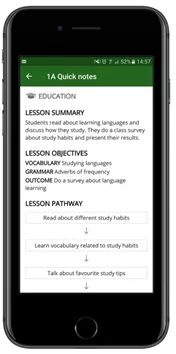 HELBLING MEDIA APP
Full audio and video content on the go.
Get the STUDIO Pre-intermediate DEMOs!
Download the free Helbling Media App to your smartphone of tablet from the Apple App Store or Google Play Store.
Open the app and add the media content by tapping on the + sign. 
Enter the Demo access codes under MANUAL ENTRY:
Student's Book: WEN4-L38C-PE84-2Y2F
Teacher's Book: WEN4-NY97-Z25L-CGYU