MARBLES Companion helps pupils learn and practise the words and phrases included in MARBLES Pupil's Book and Activity Book. It offers:
A glossary of main and secondary words and phrases. Each entry includes part of speech, accurate Greek translation and useful example sentences. Notes highlight irregular word forms, related words, relevant synonyms and opposites
Activities to consolidate the vocabulary covered at the end of the lesson
Cumulative reviews after each unit
An alphabetical word list at the back of the book
Greek translation of key rubrics from MARBLES Pupil's Book and Activity Book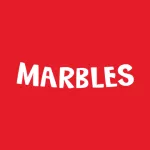 MARBLES
is the brand-new six-level course for young learners based on the whole-child approach, bringing the outside world into the classroom.
MARBLES