MARBLES Grammar Book is a full-colour book supporting the syllabus of MARBLES and compatible with any primary course. It offers:
Grammar presentations in context through illustrations
Grammar explanations in Greek that focus on form, meaning and use
Remember! sections that refer to common grammar errors pupils make
Comprehensive grammar practice through graded exercises
Cumulative reviews after each unit
on Helbling e-zone kids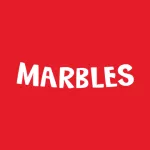 MARBLES
is the brand-new six-level course for young learners based on the whole-child approach, bringing the outside world into the classroom.
MARBLES