SURE
Be sure with SURE
The result of extensive research and teacher feedback, SURE is a 4-level course book for today's digitally native and globally aware students.
Presents appealing, contemporary themes integrated within a grammar syllabus aligned with the CEFR and Cambridge English and Trinity exams.
Guarantees a smooth and systematic start to each level thanks to its unique syllabus which revises all previously learned language through a range of fresh new topics.
Audio available in both British and American English.
Key Features
SURE addresses the needs of teachers working with modern teens and young.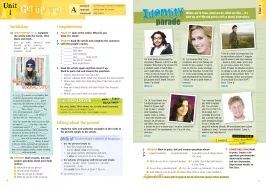 The SURE syllabus is designed to simultaneously cover the right language at the right level, while also recycling and extending students' knowledge. Such a 'spiral' syllabus reviews pre-existing language and swiftly moves students on to new and challenging learning experiences.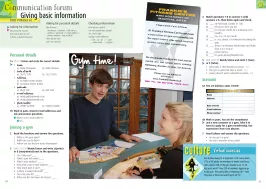 Language is for communicating and SURE puts communication at the heart of learning with presentation videos, communication dramas, documentaries and vox-pops. Communicative competences become easy to learn with entertaining dual-function video and/or audio presentations, and lots of meaningful interactive practice.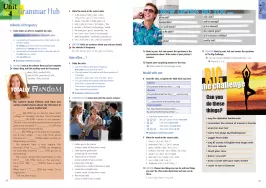 In SURE, students actively engage with grammar by focusing on contexts which show grammar in action. Grammar-oriented skills exercises, designed to get them reading, listening, speaking and writing, and using the target structures, then lead them to genuine language acquisition.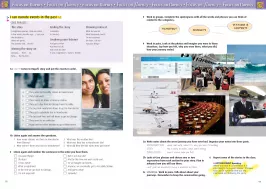 SURE takes a balanced approach to accuracy and fluency, ensuring that students learn the language they need, and that they can use this language to communicate in real time. The Focus on sections give students space to develop both areas.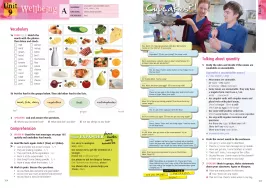 Lively vocabulary work means that students enjoy learning the words they need. In SURE, vocabulary exploration ranges from a focus on lexical sets, key words and chunks, to common spoken expressions in Small Talk and authentic, unscripted speech in videos.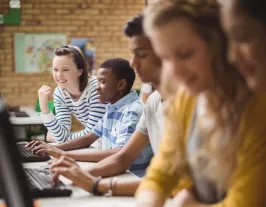 SURE offers a complete range of digital resources for students and teachers. Materials are easy to use, accessible and intuitive, which means you can easily make digital part of your classroom and homework routine and truly support the learning process.
Components
Student's Book
6 Modules
12 units
SURE Start
A and B Lessons
Grammar Hub
Communication
Skills Development
Focus on Accuracy & Fluency
Check your Progress
Workbook
6 Modules
12 units
Vocabulary Practice
Grammar Consolidation
Additional Reading Texts
Writing Tasks and Extension
On Helbling e-zone
e-book+
Student Practice
Cyber Homework
Video Activities
CLIL Projects
Helbling Media App
Teacher's Book
Teacher's Books are packed with fresh, practical ideas and activities that really provide support and guidance for every lesson. They also include a DVD with videos consisting of presentation and communication dramas, documentaries and vox pops.
Testbuilder
The online Testbuilder is available on Helbling e-zone. It includes specially developed Basic, Progress Plus and Exams Tests providing support for teachers to effectively evaluate student progress. It enables teachers to tailor tests prior to printing. Tests are also available in a ready-to-print format.
Video DVD
All the SURE video content, also available in American English.
Three Class Audio CDs
All the SURE audio content, also available in American English.
On Helbling e-zone
Teacher's DIGI Pack
Presentation Software (IWB)
Testbuilder + Test audio
Teacher's Book + Class audio
Reference material including Scope & Sequence, Trinity GESE & ISE
Photocopiables including Entry test, Placement Test, Video lessons worksheets, Grammar help, Speaking skills for exams, Word banks
Helbling Media App
Choose the version of SURE which best suits your teaching situation and classroom needs.
Standard
Student's Book and Workbook as separate volumes provide material for the classroom and further practice at home.
Combo Full
Perfect if you are looking for an all-in-one volume with Student's Book and Workbook included together.
Combo Split
With each volume providing three Student's Book modules and three Workbook modules, this version is ideal for short courses and one semester programs.
All SURE teachers' materials are also available in flexible formats to match the versions.
Helbling e-zone
Helbling e-zone is the Learning Management System (LMS) developed by Helbling. It consists of a user-friendly online platform for both teachers and students.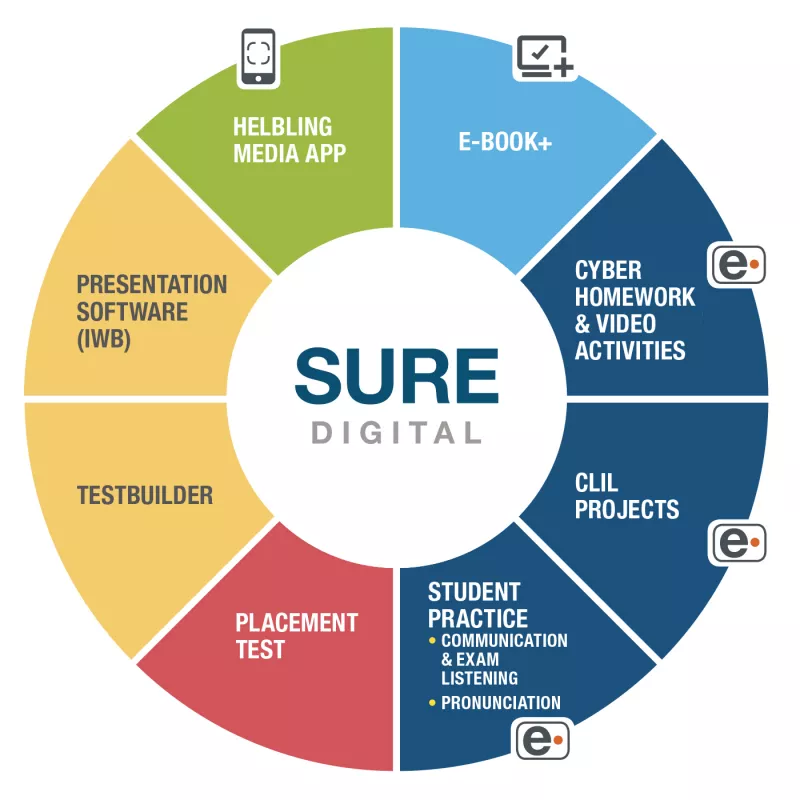 LMS ON HELBLING E-ZONE
Cyber Homework & Video Activities: Interactive, self-correcting activities assigned by teachers to individual students or groups. Students' feedback is automatically given after the deadline.
CLIL Projects: Open-ended tasks to be assigned by the teacher to individual students or groups. Students can include resources such as texts, documents or images, to be shared with the teacher and their class.
Student Practice: Plenty of practice to ensure exam success at any level. Resources and interactive activities for either individual student access or class use. Includes Communication & Exam Listening, Mini Pronunciation Course.
E-BOOK+
A state-of-the-art interactive version of Student's Book & Workbook with integrated audio and video plus embedded extra activities.
TEACHER'S DIGI PACK
Presentation Software (IWB)
Testbuilder + Test audio
Teacher's Book + Class audio
Reference material 
Photocopiables
HELBLING Media App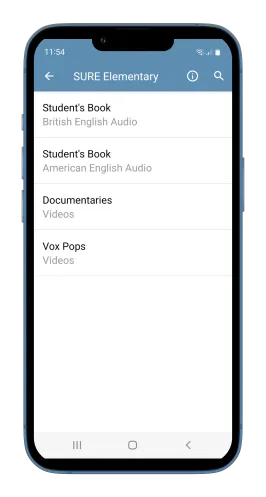 All audio and video content is also available via the HELBLING Media App.
Videos play a vital role in SURE both as a vehicle for natural sounding language, and as support for students' comprehension of the Communication scenarios. Students respond positively to stories, characters and humour which boosts their confidence and encourages participation.
PRESENTATIONS AND COMMUNICATION FORUMS
These videos introduce British and American friends in the UK and the USA and tell their stories. As students watch the episodes, they see and hear new language in action as in a film, which is highly motivating and helps acquisition.
Beginner, Elementary and Pre-Intermediate
DOCUMENTARIES
A series of short documentary films, which offer a window on English-speaking culture and cover a wide range of different topics and themes.
Elementary and Pre-Intermediate
VOX POPS
Interviews with young adults which reflect SURE grammar and topics, showcase a range of speaking styles, and give students exposure to natural unscripted English.
Beginner, Elementary and Pre-Intermediate
LITERATURE SHORTS
Imaginative readings of literary texts by Jane Austen, DH Lawrence and F Scott Fitzgerald introduce students to key authors and their works.
Intermediate
LITERATURE DOCUMENTARIES
Lively documentaries feature well-known writers and their works and, by focussing on historical context and cultural background, bring literature to life.
Intermediate
VIEWPOINTS
Short films presenting young people's points of view in spontaneous conversations, give students an opportunity to experience English in real time with real accents.
Intermediate