Seven stories for a better school day
Young children often face big questions at school. These include difficulties with growing up and dealing with emotions, their relationship with friends, classmates, and teachers, and also the new tasks the school presents them. Their concerns often remain unsaid because talking about them might not be easy for everyone. However, children are interested in solving such issues and helping their friends when they struggle. Stories about children like themselves, facing similar questions are engaging materials for a number of reasons. Firstly, stories about familiar issues create a shared experience in the classroom. Secondly, students can find comfort in the stories of others, and they don't need to talk directly about their own feelings. Thirdly, the familiar setting of the stories creates language situations that the students can relate to and remember more when they learn the world of the stories in English. This way stories work on two levels: they create experiences and offer useful language-learning opportunities.
In previous articles, we have written about thinking development, visual storytelling, interactive learning, and image-text interplay in The Thinking Train series. In this and the following posts, we turn to three important themes in children's lives: school, emotions, and imagination. In this new article about The Thinking Train series, we show you seven titles that are about various aspects of school life and give you ideas to use in the English class. 
Helping bullies
The Bully by Herbert Puchta and Günter Gerngross, illustrated by Lorenzo Sabbatini - level a reader
This story is about Charlie, who isn't very nice to the other children. They're scared of him. When Charlie invites all the children to his party, no one comes. Charlie is sad and feels sorry so he begins to be nice to the other children. And they start to like him. 
Children can easily relate to the story of Charlie as they often have to deal with bullies at school. This story shows them that most bullies just want to be liked and have friends, and they deserve a chance to become nicer.
Tip: Read more about this story in our post about visual storytelling in The Thinking Train series.
This story won the 2017 Language Learner Literature Award in the Very Young Learners category. You can read the judge's comment here.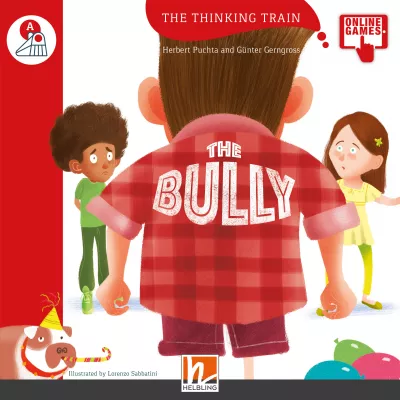 Helping your teacher
The New Class by Herbert Puchta and Gavin Biggs, illustrated by Maria Sole Macchia. - level a reader
This story takes place on the first day of school. The students help their teacher, Mr Evans, when he shows difficulty in remembering their names.
One of the things we learn from this story is that teachers can feel confused, and sometimes they need some support. It is also a great example of different learning strategies, for example remembering names and new words in rhymes.
Tip: Students can write rhymes with their own names.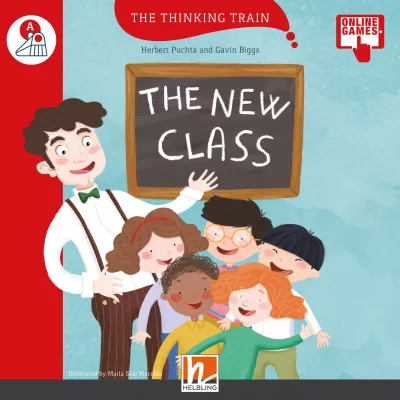 Learning to learn together
A Test for Jess by Herbert Puchta and Gavin Biggs, illustrated by Lorenzo Sabbatini. - level b reader
This story is about two friends, Jess and Ben. They are in the same class at school. Ben loves school, but Jess doesn't like school at all. One day there is a surprise test in science and Jess doesn't know any of the answers. Ben helps her and gets into trouble with the teacher. But when Jess's parents find out, she is in trouble too. Together they find a solution to get out of this situation.
Children often find it difficult to see that learning together is not only useful, but it is also a fun way to spend time together. Through the example of Jess and Ben young children will see that helping someone to learn is much better than simply giving the answers to a friend.
Tip: Ask your students to think about what they are good at and how they could help each other to learn something.
Dealing with emotions
Football Fury by Herbert Puctha and Gavin Biggs, illustrated by Manuela Scarfò. - level c reader
This is the story of Jin, a tall and clumsy boy, who sometimes gets very angry. He doesn't have any friends. When a new football coach comes to school one day, everything changes. We learn that Jin is good at football, and soon he's on the school team. But Jin faces a difficult situation when he gets angry during a match. He finds a way to tackle his emotions and help his team to win.
The story of Jin shows children that we sometimes lack confidence and feel angry. Some children feel awkward in their bodies and react badly because of this. Jin gets a chance from his football coach, who believes in him and makes him take responsibility for his actions and emotions.
Tip: Read more about this story in our post about visual storytelling in The Thinking Train series.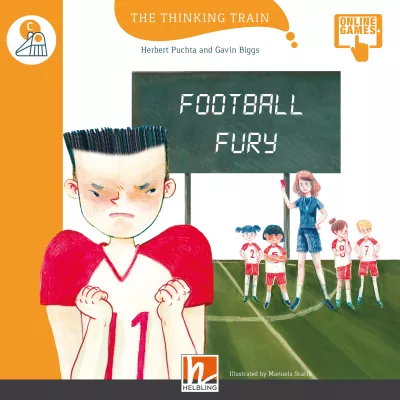 Finding balance
Paul learns to plan by Herbert Puchta and Gavin Biggs, illustrated by Vanessa Lovegrove. - level d reader
This story is about Paul, who needs to study for his tests in school, but he also needs to finish his online space game before the aliens take over. Paul finds tests very difficult: the more he tries to remember, the more he seems to forget. How can Paul's parents and friends help him to find time to study and time to relax?
Finding work-life balance is often difficult for adults. Similarly, young children need to find school-play balance, and they also have to learn strategies to deal with tests and exams. Paul's experience shows us two important lessons. Firstly, he needs to learn to manage his time and understand what he doesn't know well so that he can have a purpose during test preparation. Secondly, he needs to understand that taking breaks is important, but finding a balance comes first.
Tip: Ask students to write down things they should revise for their next test.
Accepting yourself
Ruby Runs the Race by Herbert Puchta and Günter Gerngross, illustrated by Marzia Sanfilippo. - level e reader
This story is about Ruby, who hates PE. Her teacher always tells her to run faster and try harder, but Ruby can't. The other girls aren't happy when Ruby is put on their team for an important race. They want to win, and winning is impossible with Ruby on the team. During a cross-country race, Ruby learns that she is really good at something.
Ruby's story is a good reminder that we often think little of ourselves, without understanding our full potential. When children compare themselves to others, they often forget that they might have strengths they can't even imagine.
Tip: Make team T-shirts using the Make and Do project at the back of the reader, and describe everyone's strength in your team.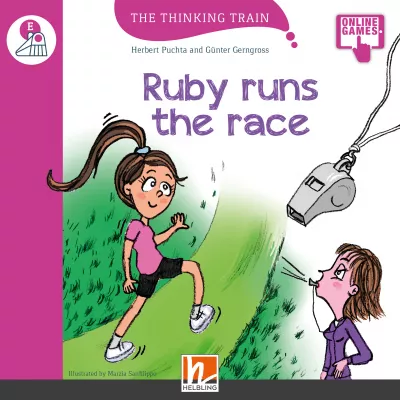 Using your imagination to help others
Deborah's Dreams by Herbert Puchta and Gavin Biggs, illustrated by Viola Niccolai. - level e reader
Deborah spends a lot of time alone in her castle. Or in her hot-air balloon. Or in her pirate ship. Because Deborah loves reading and dreaming about the adventures in her books. Her parents and teachers tell her to stop dreaming. Then one day a new boy arrives at school. Deborah uses her imagination to help him fit in.
The story shows us how reading can fuel our imagination, and how we can use this as a great resource when we want to understand and help others, who might be in trouble. Deborah's vivid fantasy also helps her describe the world around her.
Tip: Read our article about this story. Then, read our interview with Viola Niccolai, who illustrated the picture book.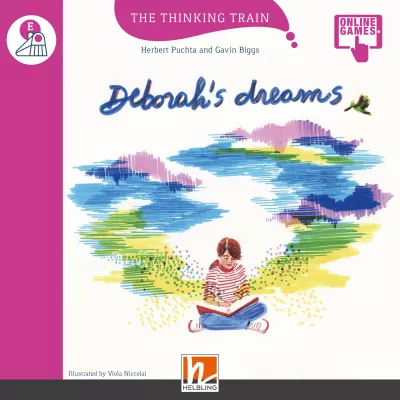 Read more about The Thinking Train series: