Making connections: Connecting reading and listening skills
When we thought about the past year, both on this blog and in our daily lives, one thing stood out as being especially important – the connections we forge and keep. So this year, we have decided to delve deeper into the theme of CONNECTIONS, looking at it from twelve different perspectives. Each month, we will explore the connections in stories, learning, relationships, and many other aspects of our lives, and we will show you how to develop them with your students. We will do this through language-based activities and stories so that you find plenty of opportunities to develop your students' English language skills while guiding them in establishing connections and supporting their own learning. 
When we think of connections, E.M. Forster's famous line 'Only connect…' comes to mind. What exactly does this line from the 1910 novel, Howards End, mean? The full quote goes like this: 'Only connect! That was the whole of her sermon. Only connect the prose and the passion, and both will be exalted, and human love will be seen at its height. Live in fragments no longer.' Reading these words in the context of the novel, we realize that the real value, and often difficulty in life, is making healthy personal relationships. This basic human need to feel connected gains special significance today. The more time we spend in digital environments, the more we need to make connections, and the more we realize that they come in many shapes. 
In January, we focused on connections in stories and the literary concept of intertextuality. In February, we looked at connectedness in reading, thinking, and well-being. In March, we focused on connections between different types of knowledge: abstract ideas/concepts and experiences. In April, we have a special interview about environmental education with ELT materials writer and trainer Harry Waters. In May, we focused on connecting people through sharing ideas. In June, we recommended 30 ways of connecting school and holiday learning. In July, we talked about connecting places through reading. In August, we showed you how stories build communities. In September, we focused on connecting disciplines and recommend multidisciplinary projects for language lessons.
In this post, we look at ways of developing listening skills while reading. 
Integrating language skills
The widespread view on language skills development typically focuses on what we call 'the four skills' (reading, listening, speaking, and writing), often keeping one distinct from the other. However, teachers know that focusing only on writing without reading or speaking without listening is ineffective. Language skills are naturally integrated and bringing them together will strengthen the overall learning outcome and reinforce weaker skills, too.
Listening is perhaps the most problematic skill for language learners who often feel uncomfortable and insecure when they do listening tasks. Listening to authentic language is demanding because it is often momentary, fast, and it demands real interaction in order to ask for clarification and repetition of phrases. At the same time, listening is key to effective communication occupying 45% of the time we spend in communication. During lessons, it is often a neglected area as it is time-consuming and demands effective teaching resources. For this reason, students need as much scaffolded listening practice in and out of the classroom as possible. One way of providing such support is working with texts (stories, articles, interviews) and their audio recordings. 
Ways of linking reading and listening
Getting started
Students are already making these connections in their everyday media use. Switching the subtitles on while watching social media videos or films and TV series is a good way of everyday practice. Listening to audiobooks while reading is a helpful strategy. Many newspaper and magazine articles are also available as recordings. In the Helbling Readers series, all stories are recorded and available either on Helbling e-zone or on the Helbling Media App. The latest Helbling Readers Red series – the Listen in Stories – focuses on developing students' active listening skills while integrating the four skills in an engaging way.
Listening practice
Listening tasks reveal specific qualities of spoken language and sounds. Remind students that the speaker's voice will add to the meaning of the text, helping them to understand the general mood or message. They can also listen for clues in the background soundscape or special effects. Ask questions like:
How do you imagine the speaker based on their voice? 
How does the speaker feel?
What sounds can you identify in the environment? Where do you think the speaker is?
With higher-level students, you can discuss accents. Ask questions like:
 Can you tell where the speaker is from?
 Can you imitate their accent? 
Specific listening skills while reading
When you are reading and listening to stories (graded readers or authentic texts), simply slow down and work closely with the text and its recording.
For quick and guided development, it is important to focus on different types of listening skills. For example: 
Listening to distinguish words and expressions (discriminative listening);
Listening for details and information (precise listening);
Listening for general understanding (listening for gist and summarising);
Evaluating and analysing (listening for inference).
Some practical ideas and activities
1 Listening to distinguish words and expressions.
When you listen to a passage, ask students to listen for specific words that you select for them. For example, they can listen for only the verbs and write them down. You can write a list with words that sound similar and students will need to mark the ones they hear. Then, you can do some practice with these words.
Stop the recording and ask the students to repeat the sentence with the word several times. 
Then, make up sentences using the same word. 
You can also come up with rhymes for difficult words.
Collect all the challenging words from a passage and make up a tongue twister for your students to practice at the end of the lesson.
In the Listen in Stories, this skill is addressed through several activities. See some examples for inspiration.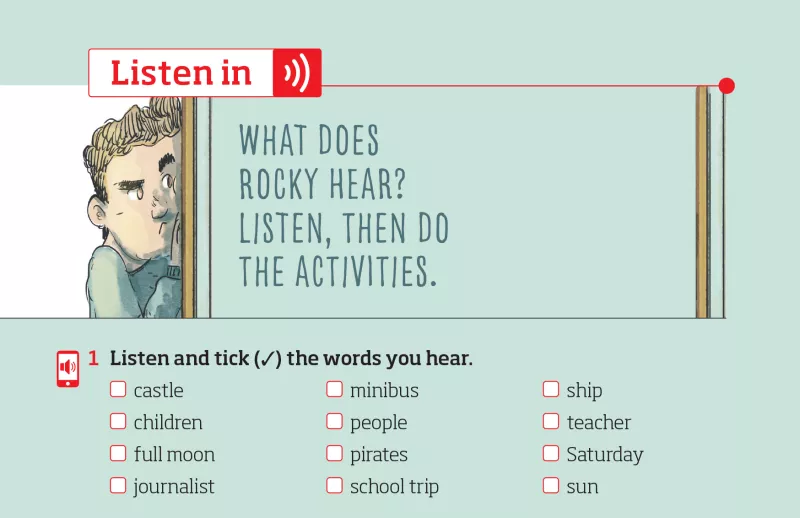 2 Listening for detail and information
Students are often required to do this type of listening task both in class tests and in everyday routines. You can scaffold the task by giving students instructions to listen for numbers or specific words (like names or places) – consolidating their discriminative listening ability. Then, ask them to complete sentences with missing information. 
In the Listen in Stories, you will find activities that support this skill. Here are some examples.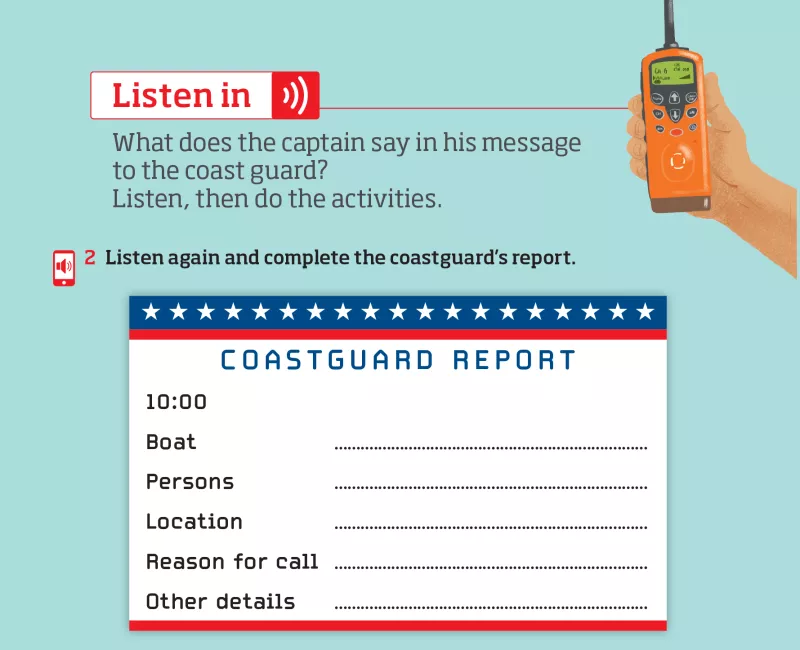 3 Listening for general understanding
Listening for general understanding can often be a good way into a text for students, before asking them to listen for more specific information or to analyse what they are listening to. 
Listening for gist gets students to think in terms of the wider context. 
Before listening to a text, ask students to listen and make decisions (the lower the level, the simpler the decision) about the content. Do the speakers agree or disagree? Is the problem solved at the end? Go on to asking open-ended questions about the feelings of the speakers, or the mood of the text.
In the Listen in Stories, there are activities which focus on this skill.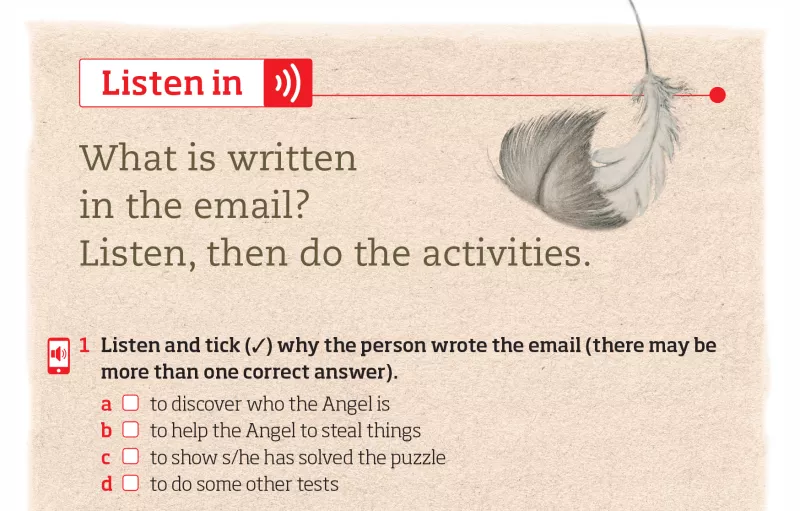 4 Evaluating and analyzing
This skill demands a critical understanding of the content of a text. It gets students thinking about why certain things happen and encourages them to formulate a personal response. Students need to understand both the details and the gist before they can successfully evaluate a text.
Listen to the text a number of times, completing general and detailed understanding activities, before asking them to evaluate the text. 
For example, ask students to work in pairs and write a series of questions for the speaker/character.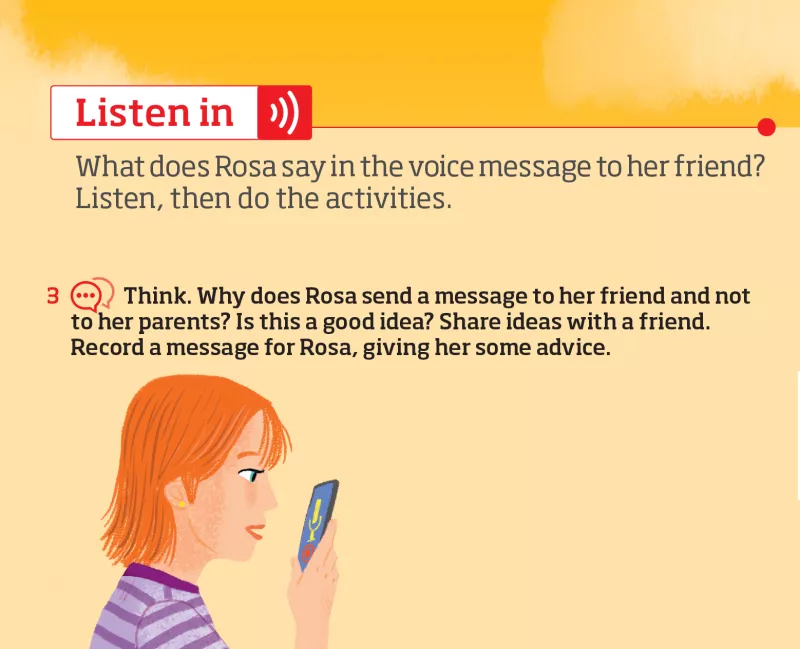 Some pointers
Always give enough time to your listening-skills lesson.
Support the listening with texts students can engage with in several ways. 
Take time to listen to passages several times and work with the language in class.
You can find out more about the Listen in Stories here.
Follow us for more posts and stay tuned for a new blog series focusing on integrating different skills in the classroom including reading, listening, speaking, writing, viewing and thinking.