Inspiring projects: Read, speak and upload!
We often talk about the use of technology in the language classroom, and it's always inspiring to see real projects in which students use their digital and technical skills to create something new, based on our readers.
Two reading/video competitions
Unlimited Educational Services, our distributor in Turkey have just completed a series of exciting projects. They organised two competitions, one called Readasaurs 4, and another one called The Read-Speak-Upload competition this spring. The rules were simple. Those who entered the competitions were asked to:
choose a reader,
read it,
make a video sharing their ideas on the reader in the form of a review, the description of a character, the description of a scene or making a recommendation,
and upload the video to the competition website.
The uploaded videos had to be under 3 minutes. The assessment was simple and clear: points were given for accuracy, fluency, vocabulary and discourse management.
Over 1550 videos were uploaded as part of the Readasaurs 4 Primary and Secondary competitions, and over 450 videos in The Read-Speak-Upload high school competition.
A young and a teenage reader
Amazingly, each student approached the video project in different ways, showing how our personal reaction to what we read is always slightly different to that of another person reading the same book. Some of students recorded the videos in a well-designed setting, and some used hand-held mobile phones for an edgier, simpler video. Some filmed their piece inside, and others, outside. No matter what solution they chose, the results were outstanding.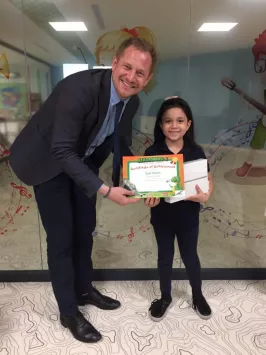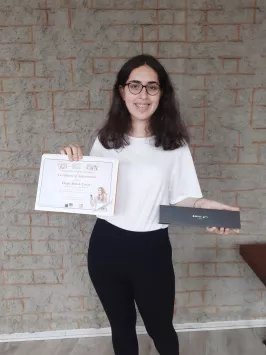 Here we are sharing the winner in the Primary category of the Readasaurs 4 competition. Ipek Özden, an 8-year-old student from Istanbul talked about the The Three Seeds written by Herbert Puchta and Günter Gerngross, and illustrated by Maria Sole Macchia in our The Thinking Train series.

Another video is by Doğa Melek Çınar from the Denizati Anatolian High School in Istanbul, and she won the second prize in The Read-Speak-Upload high school competition. She shares a review about the story and the film adaptation of The Legend of Sleepy Hollow by Washington Irving. She read the story in the Helbling Reader edition, which was adapted by Janet Olearski and illustrated by Giuseppe Palumbo.

Congratulations to all the winners and their competitors!
The benefits of making videos
Talking about the books we read, the films we watch, the exhibitions we go to are everyday activities we do with our friends. When we ask students to read a story, we often ask them to write about or discuss them with another student in class. Sometimes, if there is time, they are asked to give a short presentation in front of the whole group. These activities get the students to practise summarising, analysing and critically evaluating books. In the case of longer, classic novels, students also research either the literary history of the story, its setting and characters, and it often leads students to finding film adaptations which they can then compare with the novel.
When students get the chance to express their thoughts in connection with the novel in front of a group, they start practising an essential skill for the future, which is public speaking. Such an activity demands a complex group of language and presentation skills: pronunciation, fluency, accuracy, vocabulary, gestures and body language. They also need a lot of courage to talk in front of others, and any positive feedback will boost their confidence in their second language.
Now, when students are asked to also record and share these short talks, they are putting themselves to another challenge: they need to combine digital skills and overcome the fear of seeing themselves on film (which is often very intimidating).  But soon they realise it is also fun , and if they are motivated by their teachers and the other group members, they soon become immersed in the task. Plus seeing yourself on film is an excellent way of becoming aware of yourself as an English-language speaker and notice how you speak, the mistakes you make (and therefore can correct) and also how successful you are.
A video project for your class
These video projects can be done in any kind of group, no matter if you are teaching young learners, teens or adults. You only need to adjust your expectations and the support you give to your students. With young learners it is definitely a good idea to involve the family. Here are some steps to follow when planning such a project.
Decide the theme. Can students choose any book they have read in English? Can it be a comic book, a play, a graded reader or original fiction? We recommend setting some basic expectations (as in the Turkish competition above). Indicate a running time (3 minutes should be enough), and the type of content expected, such as a review, the description of a character or a scene, or a recommendation.
Think about categories. Organise a competition for different age groups and different language levels. You can also divide the groups by grades or simply organise it within a class.
Set a time frame. Students will need time to read the books, make the videos, and then upload them. Then, you will need time to watch the videos and decide on the winners. 
Involve other teachers. Sharing the workload can be fun and helpful. Talk to other language teachers in your school.
Make posters. A simple poster printed in full colour will get the message to all the students in your school. Also make announcement letters for the parents. You can see two examples from the Turkish competition below. Remember to add the assessment criteria and all the necessary details!
Have fun! If you enjoy the organisation and give yourself enough time, your students will get into the mood and participate with even more enthusiasm.