From reading to performing: 3 Shakespeare plays in the language class
Bringing Shakespeare into the English class
Whether our students know it or not, they may already be using Shakespeare's language. Not consciously, of course. The English language is packed with idioms and expressions which the Bard created, just think about phrases like 'heart of gold', 'green-eyed monster', 'good riddance', 'kill with kindness' or 'forever and a day'. His influence goes beyond lexical richness: Shakespeare's plays have been adapted thousands of times in a variety of genres, and his work is equally present in classical and modern arts. 
I doubt if there is an English teacher who hasn't dreamt of working with Shakespeare's plays in the classroom. They provide topics for engaging lessons on culture, history, literature, and at the same time they create opportunities for acting and stage production, encouraging students to use language and drama creatively. Plus the themes, love, power, betrayal, family are universal and very relevant to teachers and students alike. Although all teachers are aware of Shakespeare's potential impact on their students' language and cultural development, they often feel intimidated by Shakespeare's texts.
Thinking about my experiences and memories, I often felt that it'd be nice to work with one of his plays, but I never found the time to create my own graded resources suitable for the different language levels I was teaching. There are so many decisions to be made: you need a good scene, you need to prepare introductory texts, provide cultural contexts, work on vocabulary, find the relevant grammatical structures, create practice activities, and make it fun with drama activities. It has been too much to follow besides my busy teaching schedule.
Helbling Shakespeare
These decisions and materials are exactly what you'll find in the Helbling Shakespeare books. The major part of the preparatory work had been carefully written and edited for you. The texts and activities are written by Deborah J. Ellis, the tests and exams by Thomasin Brelstaff and Gianfranco Martorano, and the whole series is edited by Maria Cleary. The books include classical paintings and extra illustrations are by Mario Onnis, Paolo Masiero and Lorenzo Sabbatini.
Start with Romeo and Juliet or Macbeth with B1 level students, then choose Hamlet for B1+ levels. These following titles are going to be published soon: The Merchant of Venice (B1+), A Midsummer Night's Dream (B1+), As You Like It (B1+), Twelfth Night (B2), Othello (B2) and The Tempest (B2).
In the following sections we will show you the main features of the readers.
Print books
Each title is available in a high-quality printed edition with colourful images. Be prepared for 128 pages of engaging texts and vibrant paintings and original illustrations.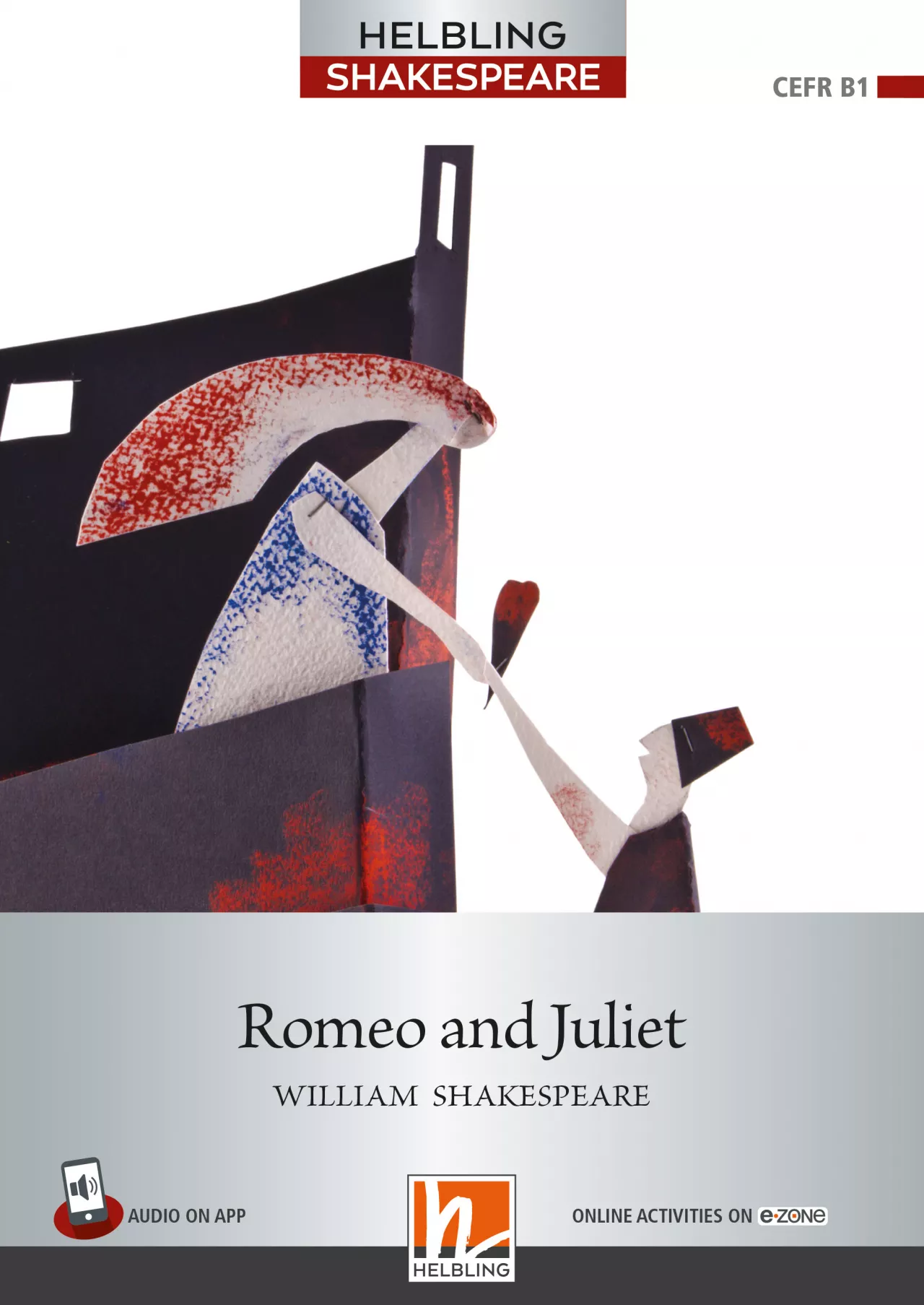 Multimedia resources
The books come with audio, video and digital materials.
Do writing and listening activities on e-zone, the Helbling educational platform.
Listen to dramatized speeches both on the Helbling Media App and on e-zone. 
Watch videos performed by L2 secondary school students who bring selected scenes to life and provide a model of how you can involve your own class in going from reading to performing. The video materials can be found on e-zone.
Watch a video lesson by Teresa Brett, an actress and drama and English teacher, who explains how to get your class from reading to performing.
Find more teacher's materials on e-zone such as easy-to-read scripts; and worksheets, extra reading materials, stage templates, and useful links.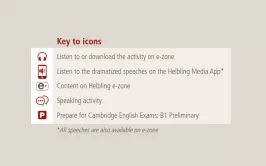 The structure
The books are divided into three major parts. Each title opens with an introductory essay by Dr Christina Klein Wolf from the University of Leicester, a lecturer and researcher who specialises in using literature in the language classroom, who share her insights into working with Shakespeare's plays.
In the first part, you learn about Shakespeare and his historical context. Then, read about the background of the play. As you learn more about the play, you meet the main characters. You'll find a double page about English in Shakespeare's time to help your students become familiar with the rules of the game, or in other words, you can introduce them to language in the renaissance.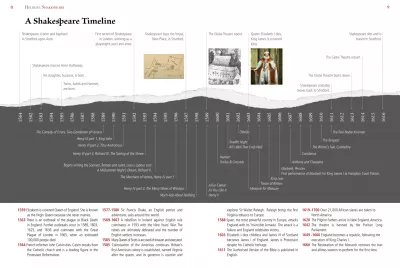 In the second part, eight carefully selected scenes are presented in original language and graded modern English paraphrase. Each scene is followed by Understand and Analyse and Vocabulary Building activities and a Culture Dossier. You also get a double page called From Reading to Performing based on each scene. This helps you and your students to read actively: Shakespeare's words were written for the stage, and they are best experienced there. The Test Yourself pages help your students revise all the new knowledge they gained in each section.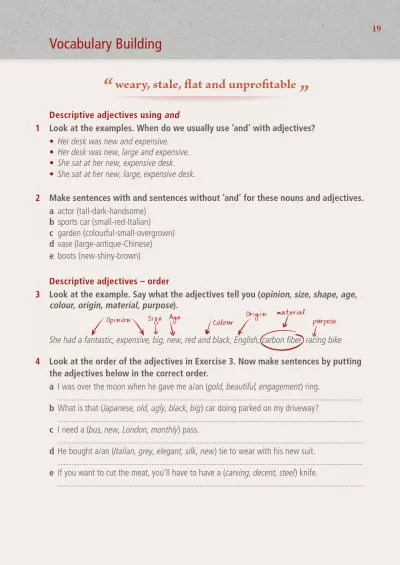 In the final part, you find a Review section and an Exam Practice section based on the level of the reader (B1, B1+, B2). You will also find all the relevant information about the classical paintings used all through the book and a Shakespeare Wordbank to help you check new literary and drama terminology.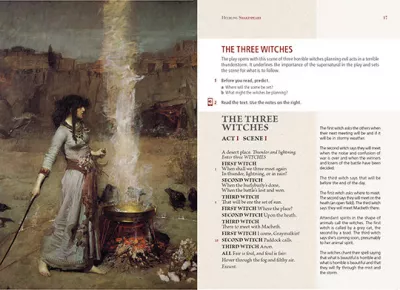 Tips on using the books in the classroom
These books are ideal for both individual and classwork. Do set aside plenty of time for the texts as the richness of the activities will keep your students interested and engaged for several lessons. Not only will they become aware of modern English language use, they will also understand complex lexical structures and get guidance in speaking, writing and exam preparation.
If you use them in the classroom, you  may decide to work through them as part of a literature course or special cultural project.  You can also use them as additional resource alongside your main curriculum work. In this case, use the books regularly as a reward and use the reader throughout the academic year. 
The paintings that accompany the scenes can be used as introductions, reference points and part of retelling/summary activities. They are all well-known works of art and greatly contribute to your students' visual literacy development.
More information
Follow these links to find out more about the series and titles:
Follow this link to learn more about e-zone:
Watch a video presentation of the series on the Helbling YouTube channel:
More about Shakespeare in the classroom: